This bridge is one of the symbols of Venice with a very interesting story. It is an important crossing point of the Gran Canal daily used by vast numbers of tourists, but it also offers a chance for shopping because of numerous small shops on both sides of the bridge and a market on one side of it.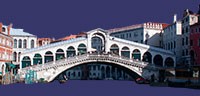 The Rialto Bridge in Venice is a stone bridge, one of the four bridges over the Great Canal (Canale Grande) and certainly the most important one in the city. According to the records, the first bridge over the Gran Canal was already made in 12th century and it was made of connected ships that allowed people to cross from one side to the other. This bridge was named Ponte della Moneta (Coin Bridge), according to some because of an old mint that was next to it, or according to others because it replaced a ferry that was once in the same location and on which passengers were paying for a ride.

In 1255, the first wooden bridge was built in this location. This bridge was at first damaged in fire - Bejamonte Tiepolo burned it during his retreat after a plot against the ruling aristocracy that failed. Then in 1444, the bridge collapsed due to the weight of a huge crowd that came to watch a boat parade. According to some, this crowd gathered to watch boats that transported marquise di Ferrara (The daughter of Alfonso I, the king of Napoli) while according to others Frederick III (Imperator of the Holy Roman Empire) was transported.
In the 16th century, an idea was born to build a bridge in stone in order to replace the wooden construction, which was obviously subject to damage. Therefore, in 1551 the authorities asked for architectural proposals. Out of many famous architects (among which was even considered famous Michelangelo) the solution of the architect Antonio da Ponte was accepted. The bridge was finally completed in 1591.

The Rialto Bridge is one of the important tourist attractions in Venice. On both sides of the bridge there are numerous small shops that offer different goods such as souvenirs, Venetian glass, but also some well-known retail stores could be found nearby.
On one side of the bridge there is also a fish market with small improvised stands on which tourists may usually find fresh fish and different types of fruits and vegetables. Also, tourists often choose to enjoy the view from the bridge to the Gran Canal and take a few photos.

Interesting facts
For most people, Bridge Rialto has a strange triangular shape. This shape comes from a previous wooden drawbridge version which allowed ships with large masts to pass beneath.

Rialto bride is a stone bridge that is 7 meter high and 28 meters long. On both sides of the bridge there are numerous shops that sell different kinds of goods.

The fist stone architectural solution of the bridge was so brave, that some architects deemed it destined to collapse soon after it was built. Nevertheless, the bridge defied the popular belief and stood firm for many centuries to come.