Postcard perfect Portugal - Portugal is a country in southern Europe and together with Spain it divides the Iberian Peninsula. This country of a long history offers to tourists sights from the Iron age, the Roman Empire, more modern age of Portuguese expansion, colonization with discoveries and of course modern cities such as Lisbon and Porto. Its long coast on the Atlantic Ocean as well as archipelagos hide delightful little places that have not yet been fully discovered by tourists.
List of destinations in Portugal: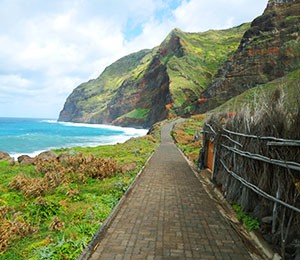 Madeira is a beautiful island in the Atlantic Ocean that is teeming with life, offers a display of brilliantly coloured flowers and fragrant fruits which most visitors might have never seen before, wonderful nature, splendid views, amazing hiking trails etc. it is so hard to put into words the uniqueness of Madeira Island and its nature. The volcanic nature of the island cossets away most of the island's beaches behind its high cliffs, but instead offering spectacular viewpoints onto the ocean, lush forests that hide incredible animal and plant species as well as many hidden locations waiting to be uncovered. Even though the main attractions of the island are its exotic tropical nature and botanical gardens, Madeira also has well-developed cities catering for the needs of modern tourists with a lot of sights, history, shopping areas, restaurants etc.

Kasadoo.com uses cookies to improve and personalize the content and ads. Find out more about cookies and how to opt-out of tracing cookies in our
Privacy policy
.