Germany is a vibrant country of very well-known cities that draw an incredible number of tourist in pursuit of the wonders of sightseeing, nightlife, good food and the famous beer and certainly all manner of festivals. Most of the best-known German cities offer a chance to enjoy modern architecture, but some also show their deep seated medieval roots in stunningly beautiful buildings, universities and cathedrals. Germany is also a country of enchanted castles, so much so that at times in whichever direction one is headed apparently there is an amazing castle waiting to be discovered.
List of destinations in Germany: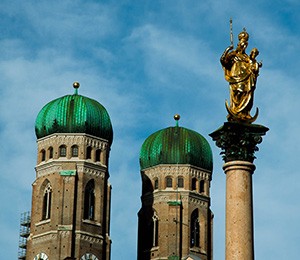 This is a complete tourist guide to Munich, Germany. We offer the up-to-date information as for what to visit and what to see in Munich. This information will help you get a bigger picture as regards to tourist attractions this city has to offer. Munich is the second most visited city in German and the capital city of Bavaria. The main attractions that draw this many tourists to Munich are: Nymphenburg Palace that looks almost as lavish as Versailles palace in France, Marienplatz with its astonishing New Town Hall, one of the largest parks in the world called English Garden, Odeonsplatz where the first Nazi putsch had failed back in 1923, just to name some attractions.

Kasadoo.com uses cookies to improve and personalize the content and ads. Find out more about cookies and how to opt-out of tracing cookies in our
Privacy policy
.