The Castle of Kos is the main fortification in the town of Kos normally referred to as the Castle of Nerantzia. In the 15th century many sour orange trees (narantzia) were planted in Kos, so many that the whole town got to be called by this name. This fortress is the most important fortification constructed on the island of Kos during the rule of the Knights Templar in the 15th century.

The castle consists of two fortified walls. The inner wall is the oldest. It is rectangular in shape and in the far corners of the wall there are four high towers. A wide moat separates the two walls which are connected only by a narrow road in the eastern side of the castle.
Until the 20th century, the castle was actually on an island, since the moat filled with the seawater separated the castle from the rest of the town, making the castle a very difficult fortification to take over. The castle was connected to the rest of the town only by a wooden drawbridge.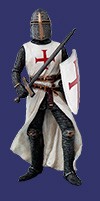 Even though there might have been fortifications on the same site during the Eastern Roman Empire (Byzantine) era, what remains until today dates back to the Knights Templar. The castle was constructed in two stages, first in the middle of the 15th century (the inner wall) and the second (towards the end of the 15th century) during which the outer wall was constructed.
In order to make their defenses impenetrable in shortest time possible, Templars made use of all the abundant ancient building material of the ancient city. In 1514, the latest defensive addition to the castle was constructed –Caretto Bastion an exceptionally strong defensive tower whose cannons were once overlooking the city and the gateway to the harbour.

The castle of Nerantzia along with the castle of Saint Peter on the opposite coast of Ancient Alicarnasus (today's Bodrum Castle) controlled the seaway towards the Holy Land during the period of the crusades.
During the 19th century, the castle was used as barracks of the Turkish garrison and as the home of the Turkish commander of the island.

On March 17th 1816, the gunpowder storage exploded by accident and destroyed a large part of the castle. The castle's current state is a result of the restoration efforts of the Italian Archaeological Department, which during the Italian occupation period, removed the annexes that had been constructed during the Ottoman era and made an effort to restore the castle to its original shape and form.
During the German occupation, the castle hosted the German garrison and was used as a prison for the Greek patriots.



Ticket Price for the castle of Kos (Castle of Nerantzia)
Regular ticket price is 4 Euros.



Working hours of the castle of Kos (Castle of Nerantzia)
The castle is open from 08:00h to 20:00h, the last entrance is at 19:40h.