Sri Lanka, the wonder of Asia, is the most stunningly beautiful island in the Indian ocean. Because of its proximity to India and its idiosyncratic shape Sri Lanka is also called 'the tear of India'. This wonderful island is a true heaven on earth, famous for its diverse landscape, from wild jungles to incredible beaches within just a few hours of each other. In Sri Lanka one may find numerous spice gardens, tea plantations, coconut palm groves, over 200 waterfalls, a plethora of parks and orphanages for elephants to name but a few. Here one may also enjoy a rich culture of Buddhist philosophy and explore the Ayurveda medicine. This is a true paradise island.
List of destinations in Sri Lanka: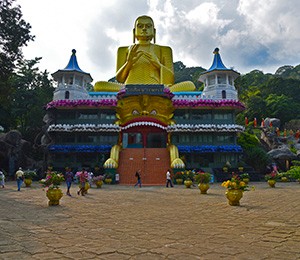 Sri Lanka is a special place on earth that looks like no other. Picture perfect nature, incredibly polite and smiling people, rich cultural heritage and history and a string of fascinating jungles are the main characteristics of Sri Lanka.

Kasadoo.com uses cookies to improve and personalize the content and ads. Find out more about cookies and how to opt-out of tracing cookies in our
Privacy policy
.