The Czech Republic is one of those rather popular world tourist destinations. It is a country of grand historic castles and with one of the most beautiful European cities - Prague. Apart from Prague (the most visited tourist destination in the country) and numerous enchanting castles, there are also stunning little towns famous for thermal springs, such as Karlovy Vary. They attract substantial attention of tourists that get mesmerized by the beauty of these towns and the surrounding scenery.
List of destinations in Czech Republic: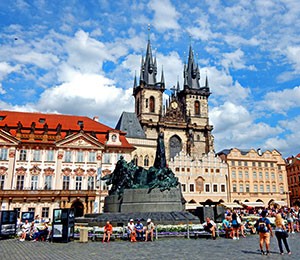 Prague is a crown jewel of the Czech Republic, a city of towers, bridges, masterpieces of gothic architecture and of course Prague's castle that for centuries overlooks the whole city. Many tourists become enchanted by the beauty of this city and decide to let go, to become a part of the fairytale, for which you just need a pinch of imagination. We tried to bring at least a piece of this fairytale closer to you through articles about all tourist sights, museums and other wonders of the city.

Kasadoo.com uses cookies to improve and personalize the content and ads. Find out more about cookies and how to opt-out of tracing cookies in our
Privacy policy
.