The Grand Canal in Venice is probably the most important one in the city in the eyes of tourists because it divides the historic center of Venice in two, with its characteristic S shape and because it is one of the major tourist attractions often crossed by gondoliers and also a perfect place for memorable photos.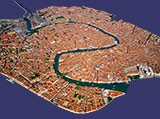 The Grand Canal (in Italian Canale Grande) in Venice is around 4 kilometers long, 30 to 90 meters wide and with an average depth of five meters. It is assumed that this canal was an ancient river branch, the banks of which were inhabited by first people that lived in Venice which built the city of Venice around it. Since it was a large "highway" on which even larger ships could set sail, the banks of this canal were attractive for centuries to the most influential families in the city that competed to show off their wealth by building some of the most beautiful palaces in the city right on these banks. For the same reason the canal used to be the main commercial area of the city where most of its trade took place. This is why there are numerous (more than 170) historically important buildings alongside this canal, which tell stories of centuries of wealth and prosperity of the Venetian Republic.

From a point of view of a tourist, this canal is of great importance. Alongside the banks of this canal there are numerous sights as well as museums that one should visit, starting with: Cá D'Oro, Rialto Bridge, The Academia Bridge and The Academia Gallery finishing with beautiful Basilica of Santa Maria della Salute and Punta della Dogana, a modern art gallery. Moreover, the palaces along the canal show the changing architectural influences in the city. You can observe the Venetian-Byzantine style (12th-13th century), Venetian Gothic style (15th century), Renaissance (15th-16th centuries), the Venetian Baroque style (16th-17th centuries), and the neoclassical style (18th century).

(!) Due to their beauty, sections of this canal are also regular tours of famous Venetian gondoliers. Before you decide to take a ride in a Venetian Gondola, make sure you read our article on this subject.