History of Milan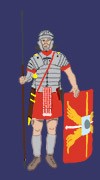 Most probably ancient Milan or Mediolanum was founded around 600 BC by Celtic Insubres (Gaulish population in Lombardy). Romans captured the city in 222 BC. In 286 Diocletian moved the capital of the Western Roman Empire from Rome to Mediolanum. It was in Milan that the emperor Constantine issued the Edict of Milan in 313 AD stopping the persecution of Christians and allowing Christianity to become the dominant religion of the Empire. It was overran by Huns in 452AD, destroyed by Ostrogoths in 539AD and conquered by Lombards in 596AD.
Even Middle Ages were characterized by political uncertainty and constant battles for power. Eventually Visconti family managed to size the power and keep it for a century and a half.
Over the centuries Milan was under French, Hapsburg Spanish and Austrian rule till the 1859 when it joined the Kingdom of Italy.

Population
Milano is the second largest city in Italy with the population of some 1.3 million people. City center and surrounding communities account to some 5.2 million and therefore the urban area of Milan is the 5th largest in the European Union. Milan is the main industrial, commercial and financial center in Italy.


Did you know?
Between 1950-1965 the population of the city grew by 400,000.
After 1970 Milan saw a new rapid increase in population due to immigrants from: Morocco, Egypt, Philippines, and Ecuador and after 1990 from Albania.
Milano's Duomo (Duomo Cathedral) can hold more than 20,000 people.
Milan was liberated before the Allies have reached the city by the Italian partisans in April 1945. During the same month the bodies of Benito Mussolini and his mistress were displayed in Piazzale Loreto.
In 1969 in a bank in city center a bomb exploded in a so-called Piazza Fontana massacre. The bombing was organized by neofascists with aim to provoke repressive actions against the left.
Milanese people, considered the city as the "moral capital" of the state, but in 1990s huge institutionalized corruption was reviled and the city got a new nickname "Tangetopoli" or "Bribesville".
*Milan is among four main fashion capitals; many would say: "One did not shop until they shopped here".
Milan's cuisine is not based on pasta, spaghetti, pizza or lasagna; on contrary most of the dished are based on meet, risotto and milk products. Most famous local dishes are: Cotoletta alla Milanese, Risotto alla Milanese and Ossobuco.
In every bar, after 18h you will be asked: Aperitivo? Aperitivo is part of Milan's culture and it is a synonym for a drink accompanied with well displayed buffet and a pleasant chat with friends and colleagues.