The Gallery of Vittorio Emanuele II in Milan is a beautiful gallery of unique architecture. The gallery represents a magnificent passage which connects Duomo Square with Scala Square, where the famous Scala Theatre and the Gallery of Italy are located. In the gallery there are flagship stores of world famous brands and numerous cafes which contribute to the charm of the building.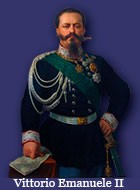 The Galleria Vittorio Emanuele II is one of the oldest shopping malls in the world named after Vittorio Emanuele II, the first king of the Kingdom of Italy. It was designed by Giuseppe Mengoni and built between 1865 and 1877. It was built during a traumatic period in Italian history (the unification of Italy) which is why the Gallery is filled with patriotic symbols.
Prestigious fashion stores are situated within the gallery, as well as some of the oldest cafés and stores in the city.
The mosaics below the dome represent Savoy's coat of arms. You may also pay attention to the symbols that depict the main Italian cities: the wolf represents Rome, the bull stands for Turin, the lily belongs to Florence and the white flag with a red cross on it represents Milan.
The Gallery represents a magnificent wide passage which connects Duomo Square with Scala Square, on which you will find world famous Scala Theatre and the beautiful Gallery of Italy.

Interesting facts
If the person puts their right hand on the genitals of the Bull depicted on the pavement and turns three times it brings good luck.
At first, the construction of the Gallery was not recognized and approved by Milanese population. However, as the project started to take its final form, citizens were allowed to see the progress and they started to love the entire idea. In the end they named the Gallery "the living room of Milan".
On December 1877, the main architect Mengoni fell from the triumphal archway, located on the top of the gallery, and died.
Around the 47m high glass cupola, there are mosaics that represent four continents – Europe, Africa, Asia and America. If you look carefully you will see that it is not too difficult to understand which mosaic represents which continent. In this way you can test yourself whether your own knowledge of different cultures is sufficient to answer which mosaic truly represents which continent.