Welcome to KASADOO
We are a community of travelers.
We have traveled extensively and we know how important it is to have the right information and a logical structure that makes searching for this information easy.
Enjoy, and remember that the locals write our articles so that you can enjoy your stay as much as possible and experience colors and tastes that stay hidden to most other tourists.
Countries to visit: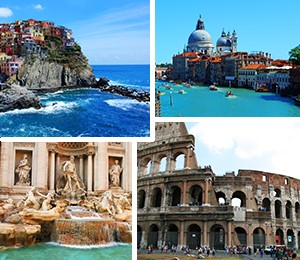 ---
Inspiring Italy! Famous Italian food, design, Italian way of living, but also an enchanting land that no matter how many times you visit it seems to remain undiscovered and enveloped in a moat of long and chequered history that gave birth to so many beautiful towns and cities. The main tourist attractions are certainly the breathtaking cities of Rome, Venice, Milan, Florence and Napoli, however Italy also offers a plethora of less well-known places that still seem to manage to impress visitors inasmuch as on their way back home they already start planning another holyday to Italy.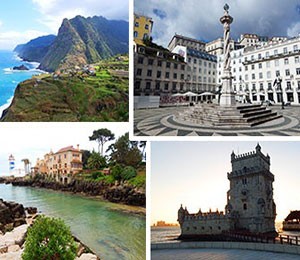 ---
Postcard perfect Portugal - Portugal is a country in southern Europe and together with Spain it divides the Iberian Peninsula. This country of a long history offers to tourists sights from the Iron age, the Roman Empire, more modern age of Portuguese expansion, colonization with discoveries and of course modern cities such as Lisbon and Porto. Its long coast on the Atlantic Ocean as well as archipelagos hide delightful little places that have not yet been fully discovered by tourists.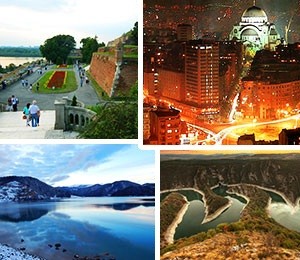 ---
Smiles, well known Serbian hospitality and delicious food are most common impressions that this country seems to make in tourists. Belgrade and Novi Sad are the most visited cities in Serbia. However, Serbia is also a country of many natural wonders, beautiful mountains, lakes and rivers that are ready to be discovered by international tourists.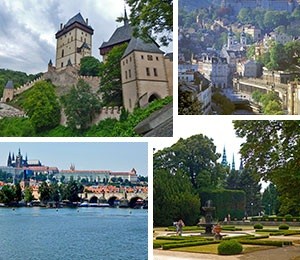 ---
The Czech Republic is one of those rather popular world tourist destinations. It is a country of grand historic castles and with one of the most beautiful European cities - Prague. Apart from Prague (the most visited tourist destination in the country) and numerous enchanting castles, there are also stunning little towns famous for thermal springs, such as Karlovy Vary. They attract substantial attention of tourists that get mesmerized by the beauty of these towns and the surrounding scenery.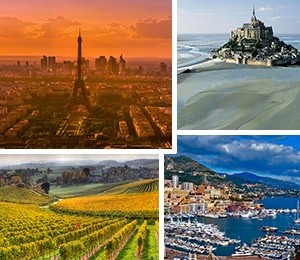 ---
France is certainly a country which seems to defy any definite and far too easy an explanation, home to stunningly beautiful buildings and revolutionary spirit. It is a country of beauty and prestige but also a country of ordinary people. It is a country of thinkers who tend to exude aura of authority around the sheer superficial; it is enough to visit places where ordinary people get together in order to understand in how many different directions a French thought goes. It is a country of love and lovers. It is a country of aspiring artists who became known as rebels before getting their fair share of fame and glory. If it were to be described as a woman, France would be a mistress who overwhelms with her beauty and whose embrace not one man would ever wish to part with.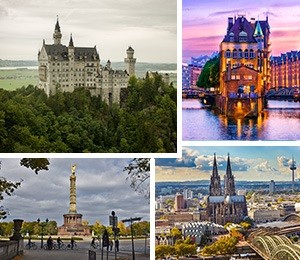 ---
Germany is a vibrant country of very well-known cities that draw an incredible number of tourist in pursuit of the wonders of sightseeing, nightlife, good food and the famous beer and certainly all manner of festivals. Most of the best-known German cities offer a chance to enjoy modern architecture, but some also show their deep seated medieval roots in stunningly beautiful buildings, universities and cathedrals. Germany is also a country of enchanted castles, so much so that at times in whichever direction one is headed apparently there is an amazing castle waiting to be discovered.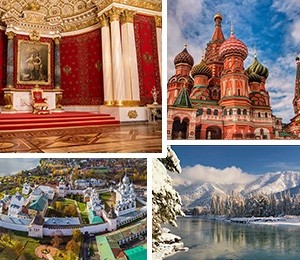 ---
Russia is the largest country in the world and at the same time one of the most stunningly beautiful ones. Regrettably, somewhat inadequately promoted in the media, the picture perfect beauty of Russia seems to have never been presented to a wider audience to measure up to its full potential, so prospective tourists do not seem to know what they can actually visit in Russia and what Russia holds for them in its splendour and glory. One might say without fear of contradiction that Russia really 'has it all'. It would literally take years to get to know all wonder and beauty of this stunningly beautiful country. From the imperial city of St. Petersburg, the main center Moscow and the sparkingly snowy Siberia, to restless Kamchatka, Baikal and Rostov on the Don River - wherever the tourist might like to go , they will be at a loss for words in front of the never- ending grandeur. This is the country of fairytale-like cities and jaw-dropping landscapes, cultural centers, theatres and ballet, a home of Dostoyevsky, Pushkin and Yesenin, a country of warm hearted yet proud people who would often tend to say they all have only one mother and her name is Russia.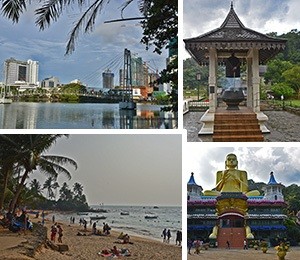 ---
Sri Lanka, the wonder of Asia, is the most stunningly beautiful island in the Indian ocean. Because of its proximity to India and its idiosyncratic shape Sri Lanka is also called 'the tear of India'. This wonderful island is a true heaven on earth, famous for its diverse landscape, from wild jungles to incredible beaches within just a few hours of each other. In Sri Lanka one may find numerous spice gardens, tea plantations, coconut palm groves, over 200 waterfalls, a plethora of parks and orphanages for elephants to name but a few. Here one may also enjoy a rich culture of Buddhist philosophy and explore the Ayurveda medicine. This is a true paradise island.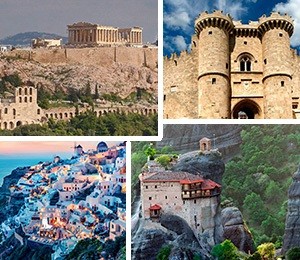 ---
Glorious Greece! Famous cites such as Athens and Thessaloniki and a myriad of islands tend to constitute the main tourist offer of this beautiful country. Apart from the typical Mediterranean products such as olive oil, fresh fish and seafood, Greeks are also proud of their meet quilty their famous Feta cheese and national liquors such as ouzo or tsipouro. Remember that there is more to Greece than meets the eye -- Greece does not have merely Santorini, Mykonos, Rhodes and Crete, there are an incredible 227 inhabited islands and truth be it, some are more beautiful than others, but still we seriously doubt one can go to one of the Greek Islands and come back without wearing a smile on your face and tales to tell about the good times you had.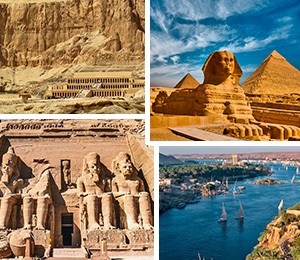 ---
Egypt is one of the oldest civilizations of our world. It is the land of Pharaohs, who constructed the pyramids and the Valley of the Kings, monuments that visitors admire even to this very day. Egyptian history goes back as early as 6.000 years ago and incredible monuments that were constructed in the past nowadays represent cultural heritage and tourist attractions that every person should see at least once in their lifetime. The most interesting and most popular attractions are the Pyramids, the only miracle left from the ancient world, Sphinx, the guardian of the Pyramids, the Valley of the Kings in Luxor, the tomb of King Tutankhamun and many others.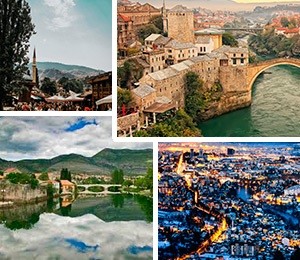 ---
Bosnia and Herzegovina is located in the hearth of Southeast Europe. This heart-shaped country has always been on the crossroads between the eastern and the western civilizations, culture and influences. The northern and the central part of the country is called Bosnia, whereas the southern part is Herzegovina. Geographically and culturally, Bosnia and Herzegovina is a stunningly beautiful country with an endless array of natural landscapes, cultures and traditions.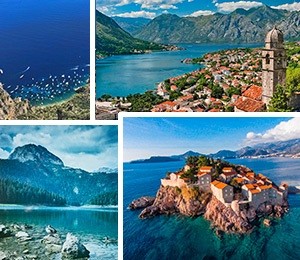 ---
Montenegro is quite a small country, yet abundant in natural beauty, historical monuments and most often sunny weather (approx. 240 sunny days in a year). This is a country full of contrasts. Here visitors will witness three distinct natural environments: the scenic coast, the karst landscape and the high mountain region. In just an hour's drive, you can move from the Mediterranean coast to the mountainous area and the ski slopes. Montenegro spreads along 300 kilometers of the Adriatic coast with 117 pebbly, sandy or rocky beaches.The Montenegrin mountains extend from Maglić, Volujka and Bioč mountains in the west to Prokletije mountain in the east, intersected by magnificent canyons of Piva, Komarnica, Sušica, Tara and Morača, decorated with over 35 picturesque lakes.
Tourist destinations:
Friends:

Kasadoo.com uses cookies to improve and personalize the content and ads. Find out more about cookies and how to opt-out of tracing cookies in our
Privacy policy
.